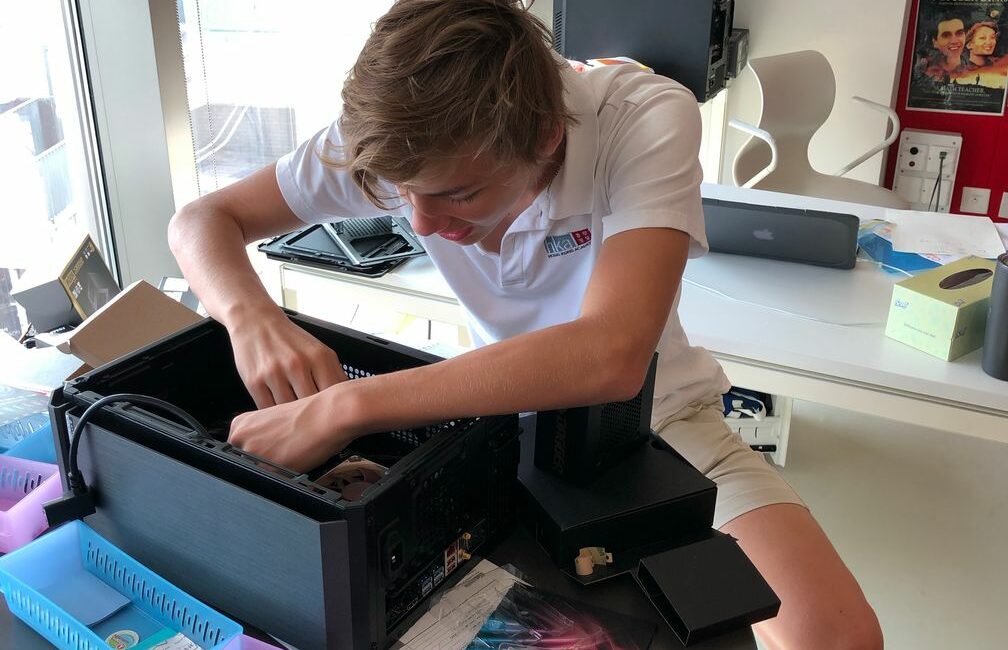 HKA Build Your Own Computer HKA Student Only (Age 12-18)
for HKA Students Only
9-Day Course: June 21, 22, 23, 24, 25 & June 28, 29, 30, July 2
Age 12-18
9-day course 9:00-12:00pm. Wed 26th class will not run and be replaced with an afternoon field trip to Sham Shui Po (meet on location). Extra hours may be made available if required. The registration fee is for the course only and is not inclusive of any computers parts to be purchased during the programme.
Who is this course for?
Students who are looking for a new challenge in technology and may want to learn how computers work through building their own. Or students that would like to make an upgrade or update to their current computer for faster processing/gaming.
What will you learn?
Gain a basic knowledge of PC components and how they interact

Build your own computer from scratch

Choose components based on your needs

Shop for parts based on your budget

Learn how to shop for components that have a high money-to-performance ratio

Install a Windows operating system and the necessary drivers
A few housekeeping points to consider
This activity is

student/parent funded

A price comparison betweens the top 3 computer stores in Hong Kong will be done

The computer parts will only be ordered after the parents approve the quotation

The parents will be billed directly by the school a few weeks after the parts have been received by HKA

Due to the high demand of graphic cards, the prices of these have increased dramatically. Graphics cards can make up to 50% of the computer budget.
Budgeting
Please discuss budgeting with your child, you might have to be somewhat flexible as the price parts may fluctuate. Sometimes adding 200HKD to the budget can make a big difference. A few points to keep in mind:
All computers will require a Windows license – this alone costs about 1100HKD

A screen costs minimum 1500HKD
| | |
| --- | --- |
| Type (including screen, keyboard & mouse) | Budget (HKD) |
| Very basic computer setup | 8000 |
| Average computer setup | 14000 |
| Decent gaming setup | 18000-24000 |
*Following HKA's COVID-19 rules and protocol, the number of students participating will be controlled and social distancing will be monitored, in a safe and fun environment.
Wait List
This course is organised and instructed by Hong Kong Academy