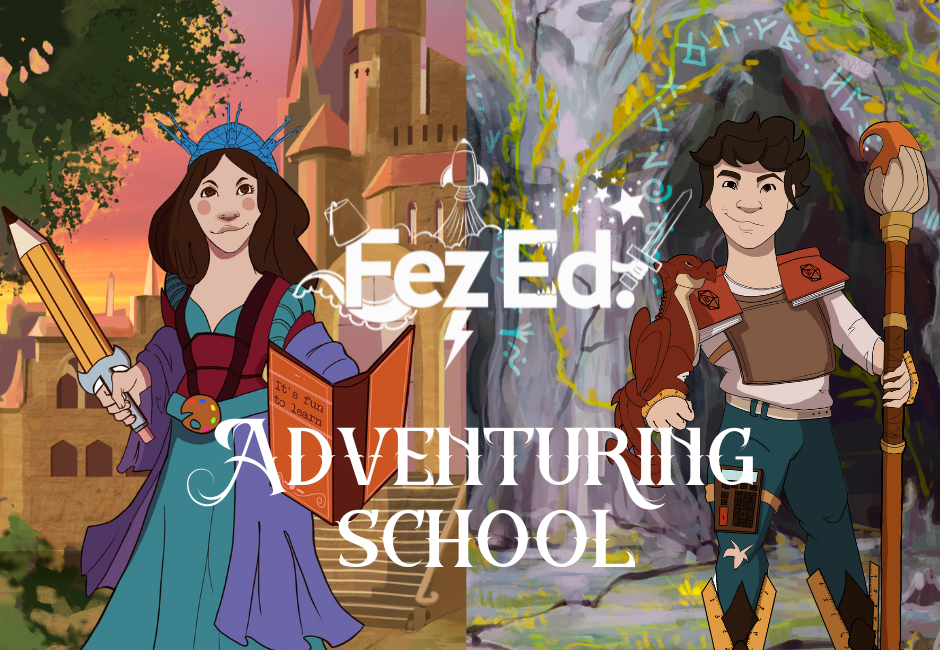 FezEd Role Playing Adventures (Age 9-11)
4-Day Course: Jun 19-23 *22 Public Holiday
5-Day Course: Jun 26-30, Jul 3-7, Jul 10-14, Jul 17-21, Jul 24-28, Jul 31-Aug 4
Welcome to FezEd Adventuring School! Here we turn children into heroes and lessons into
adventures. We teach kids the "4Cs" of success in the 21st century:
Critical thinking through mysteries and logic puzzles.
Creativity through dealing with tricky situations.
Communication through talking to characters they meet along the way.
Collaboration through teamwork, as they cannot win the day on their own.
These key skills are essential for modern students to excel at school, the workplace and beyond. But what is a FezEd Adventure? It's helping Sherlock Holmes with a case. It's tricking a dragon by
working together with your fellow adventurers. It's creating a world together. It's imagination coming to life through a child's curiosity.
In our sessions, children create their own character and use their unique skills to solve maths, literacy, and logic puzzles. Along the way, they will meet many interesting and quirky characters played by the teacher. Students must work together to achieve their goals, with multiple storylines and worlds to visit.
Through the power of imagination, you'll gain the skills to succeed.
FezEd Adventures: Trouble at the "Normal" Town school
A few minutes into this adventure, kids will learn that there is nothing normal about "Normal Town".
Children have been going missing at the "Normal Town" School and Sherlock Holmes has asked our
heroes to go undercover and crack the case wide open. The children will really need to use their
critical thinking skills if they are to solve this mystery and make the school safe again.
FezEd Adventures: Alien Game Show
Some awful aliens arrive to Earth to tell us that we have been selected to take part in a game show called "Can you save your planet". Luckily for Earth, our group of heroes are around to compete. Will the children be able to stay in the gameshow long enough to dismantle it from the inside? Or will the make a misstep on the many different themed game shows and fail to save the plant?
FezEd Adventures: Fairy Forest Politics
Fairies and trickery are the order of the day in this adventure. The children will need to navigate the politics of the various faerie kingdoms from the Summer Court to the Winter Wasteland. They will need to be very careful if they have a hope of bringing stability back to the Fairy Forest. Oh! I forgot to mention the dragons and wizards are actively working against our heroes.
FezEd Adventures: "The Collector"
Famous Landmarks are being stolen by some strange figure called "The Collector". Our heroes pick up the case at the missing Statue of Liberty. The children need to interrogate witnesses and follow the clues to get to the bottom of this adventure as they jet set all over the world capturing The Collector's minions and learning facts about the wonderful world we live in.
FezEd Adventures: The Keeper of Myth
The "Keeper of Myth", a magical fox who guards our most precious stories, is under attack. Someone or something is trying to destroy our stories and make us forget. Our heroes will need to travel to realms such as Asgard, Camelot and Mt Olympus to find out what is going on and set things right.
FezEd Adventures: A Villainous Plan
It is rumoured that the top villains in the universe are meeting to discuss their grand plan. Can the children infiltrate this meeting and stop them? Will they be brave enough to save the day in this (slightly) scary adventure?
FezEd Adventures: Around Adventure in 5 Days
We've heard of "Around the World in 80 Days", but in this adventure we are asked to help Phileas Fogg go around adventure in 5 days. From Aztec temples to the tiny people of Lilliput getting in the way, our heroes will be hard pressed to get the job done in time. This will be a race for the ages.
"I think it's great that we get to trick the bad guys. My spells always make them look silly".
"Helios" played by Isaac aged 7.

"We get to level up and buy new items. I also love finding treasure. The places we go are exciting".
"Kave" played by Rhea aged 10.

"I made a lot of good friends on this course! Battling the monsters together made the class more
fun". "Min" played by Bella aged 11.
Wait List
This course is organised and instructed by FezEd Adventuring School.