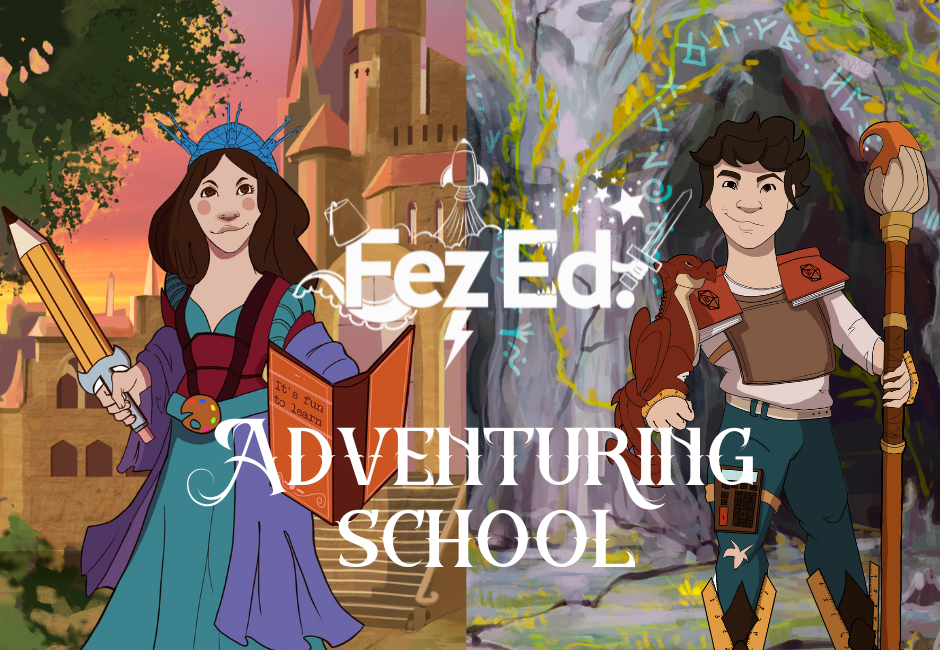 FezEd Role Playing Adventures (Age 6-8)
4-Day Course: Jun 19-23 *22 Public Holiday
5-Day Course: Jun 26-30, Jul 3-7, Jul 10-14, Jul 17-21, Jul 24-28, Jul 31-Aug 4
Welcome to FezEd Adventuring School! Here we turn children into heroes and lessons into
adventures. We teach kids the "4Cs" of success in the 21st century:
Critical thinking through mysteries and logic puzzles.
Creativity through dealing with tricky situations.
Communication through talking to characters they meet along the way.
Collaboration through teamwork, as they cannot win the day on their own.
These key skills are essential for modern students to excel at school, the workplace and beyond. But what is a FezEd Adventure? It's helping Sherlock Holmes with a case. It's tricking a dragon by
working together with your fellow adventurers. It's creating a world together. It's imagination coming to life through a child's curiosity.
In our sessions, children create their own character and use their unique skills to solve maths, literacy, and logic puzzles. Along the way, they will meet many interesting and quirky characters played by the teacher. Students must work together to achieve their goals, with multiple storylines and worlds to visit.
Through the power of imagination, you'll gain the skills to succeed.
FezEd Adventure Adventures
During this week the children will go on 2 stand-alone action-packed adventures.
1. Trouble in the Meadow – Bees and plants share a mutual relationship that has benefitted them both for millions of years. Until now! There is trouble brewing between the Flower and
Bee Kingdoms. Can the children smooth things over?
2. Pirate Cave – Bonnie Anne's crew have been taken prisoner. The children will need to find the hidden pirate cave to help her free them from the cursed pirates.
FezEd Nightmare Adventures
During this week the children will go on 2 stand-alone adventures filled with silly monsters and even sillier settings. There is nothing to fear here.
1. Monster Con at the Hotel de Scare – There is a monster convention in town, and everyone is dressed up as their favourite monster. But it is rumoured that one of the people staying in the hotel is an actual monster. Can the children figure out who it is?
2. Saving Monster City – There is one thing that the monsters of Monster City fear more than anything and that is CHILDREN. However, the city is in danger of being attacks and the children will need to proof themselves trustworthy before they can save the city.
FezEd Dream Adventures
During this week the children will go on 2 stand-alone adventures on the Island of Dream.
1. Upside Down Town – The Mayor of Upside Down Town has been kidnapped. Can the children navigate this strange place where everything is opposite? Will they find the mayor in time for him not to go to work?
2. Invention City – The inventors of invention city have finally done it. They have created a robot to invent things for them. But is this a good thing? Can the children set things right before it is too late?
FezEd Myths Legends and Folktales Adventures
During this week the children will go on 2 stand-alone adventures based on famous myths.
1. Race to El Dorado – Spanish conquistadors are on their way to steal all the gold from the mythical city of El Dorado. Can the children beat them there? Can they get them to leave it alone?
2. The Trials of Hercules – One of our favourite mythical heroes seems to have lost his powers. The only problem is that he still has 4 trials left before he can finish his legendary story. Will the children be able to help him with this herculean task?
FezEd Fantasy Adventures
During this week the children will go on 2 stand-alone fantasy themed adventures.
1. The Wizard of the Moving Hut – Someone has stolen a wand of great power from the Wizard of the Moving Hut, cursing him and all his servants. The children will need to act quickly to right this wrong.
2. Fairy Queens Birthday Party – When you hire a magical band for your birthday party, you need to make sure you can get them to leave afterwards. Can the children face the music?
FezEd "Normal" Town Adventures
During this week the children will go on 2 stand-alone adventures in a town that is anything but normal.
1. A "Normal" Day at the Museum – The "Normal" Town museum is opening its new dinosaur exhibit.
This is a strange choice of exhibit seeing as everything in this museum comes to life. Can the children restore order to the museum?
2. A "Normal" Painting Party – Everyone is flocking to the art gallery to celebrate Vincent Van Gogh's 170th birthday.
The only problem is that he's gone missing. Can the children help Sherlock Holmes find him in time to cut the cake?
FezEd Sci-fi Adventures
During this week the children will go on 2 stand-alone Sci-fi themed adventures.
1. Goldilocks Planets – The aliens of Alpha Centauri need assistance in finding a new planet as their sun is about to go supernova. Can the children find one that is not too hot and not too cold, nor too big or two small?
2. Adventure into Frank's Stomach – Mad scientist Frank has a tummy ache. He's not one to take medicine though. Instead, he shrinks the children down to see if they can fix the problem from the inside.
"I think it's great that we get to trick the bad guys. My spells always make them look silly".
"Helios" played by Isaac aged 7.

"We get to level up and buy new items. I also love finding treasure. The places we go are exciting".
"Kave" played by Rhea aged 10.

"I made a lot of good friends on this course! Battling the monsters together made the class more
fun". "Min" played by Bella aged 11.
Wait List
This course is organised and instructed by FezEd Adventuring School.